Here are some new transversal features we have just released to improve the way you navigate within the app and manage users.
(1) Make your team special
Your team now has a name and an emoji. The team's manager can edit them from the
Settings
page.

We let you decide whether your team's emoji should be a rocket or a shrimp!
(2) Easier navigation between teams
For those using Popwork both with their manager and their own team, navigation was a bit messy.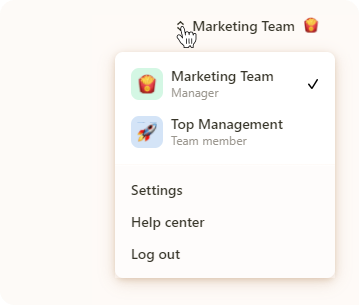 Therefore, we have introduced a brand new navigation menu that will help you easily switch teams. No more deadlocks.
(3) Always on the right page
If you close the tab and connect again shortly after, you will land on the last page you visited.
Also, when someone shares a check-in or a note with you, you will now land directly on the right workspace when clicking on the email notification link.
As manager, it's now super simple to add or remove users from the
Settings
page as your team evolves.